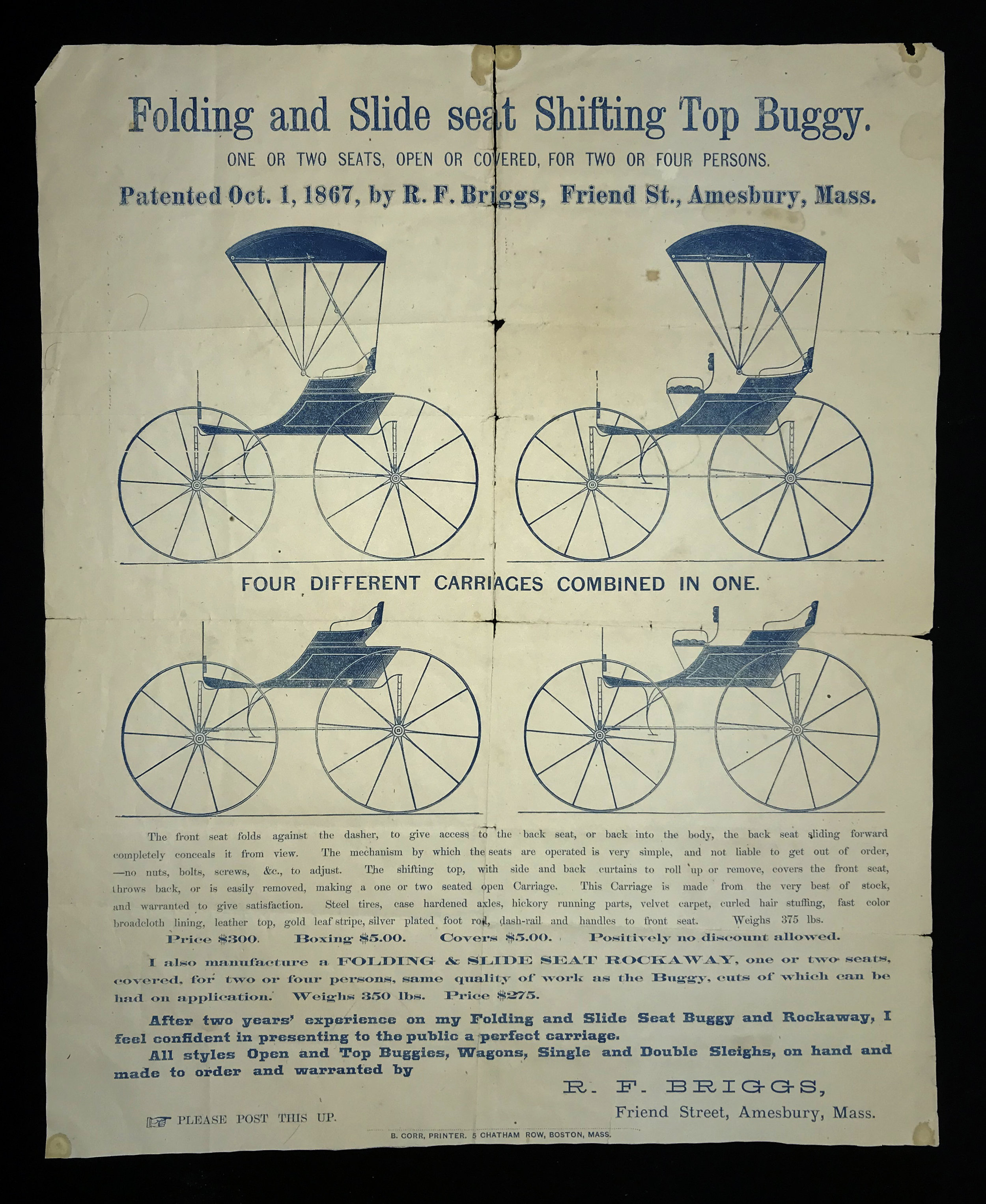 Briggs Broadside
Richard Francis Briggs (1836 – 1894) was an innovative leader of the Amesbury carriage manufacturing community. The R.F. Briggs carriage company began operations in 1866 and was located at 99 Friend Street. The broadside is from this period and documents Richard's patent for a buggy that could be converted into various configurations. The advertised price ("positively no discount allowed") was $300 – quite expensive for the time.
The 1870 census listing for the RF Briggs Company shows there were 22 employees who made 150 buggies with an estimated value of $6,000. In 1874 Briggs needed more room for his operations. He sold the property on Friend Street to Wm. G. Ellis. (Ellis operated his carriage works at this location until a
fire on April 30, 1893 destroyed the buildings.) Briggs moved to the Cadieu & Clark building on Cedar St. (then in Salisbury). In 1880 the Briggs company produced 1,800 carriages valued at $200,000 and employed 125.
Around 1890, the company diversified operations and began making automobile bodies and trolley cars. Operations continued until the company closed in 1926.
Briggs was an incorporator of the 1883 Powow Hill Water Company along with other carriage makers – William Biddle, Jacob Huntington, and M.D.F. Steere.
Richard Francis Briggs was born in Holderness, NH December 13, 1836 – his parents were Alice Roberts (1810 – 1856) and Joshua Briggs (1808 – 1846). He had a brother – James W. (1832 – 1890) who joined him in the carriage business and a sister, Clementine E. Briggs (1846 – 1932). Richard died on May 5, 1894 – he is buried in the Mount Prospect Cemetery in Amesbury.